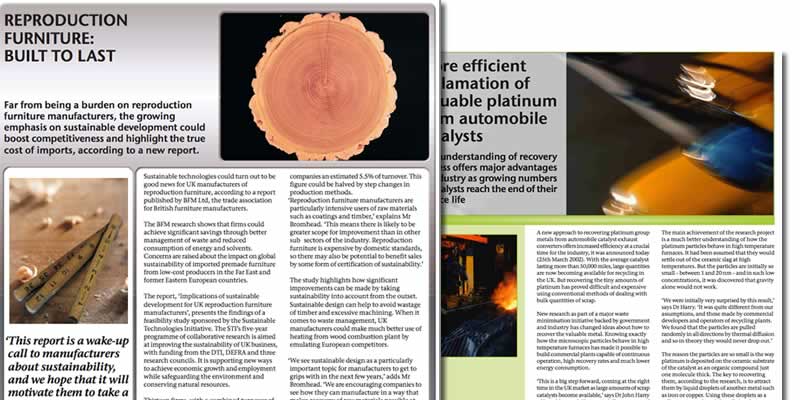 Series of Newsletter Designs for DTP
A series of a dozen newsletters in pdf format sponsored by the DTi. The full range was linked to an on-line database on the Oakdene Hollins web-site and used for email marketing.
Printed newsletters, or their pdf versions, are useful where there is either a lot of text or detailed data to convey. Many people don't especially like reading a lot of text on a screen, although that figure will inevitably change with the growth of people reading books on a Kindle. So, being able to print a good quality document and read it at the user's leisure is a sensible option.
PDF is the preferred file-type rather than a Microsoft Word document (or just printing a web-page), because the pdf will print to a known format, whereas line breaks from .doc files or web-pages depend on the computer/printer setup. PDF files can also be restricted from copying and have copyright information inserted.
The newsletters were designed in Adobe Freehand as templates that the client could then use in a Desktop Publishing setup to produce more newsletters. There were two styles of template depending on the subject matter for the newsletter.
Once the client had created the Freehand document, it would be 'printed' to a pdf file and loaded up to their website via a content management system we created for them.