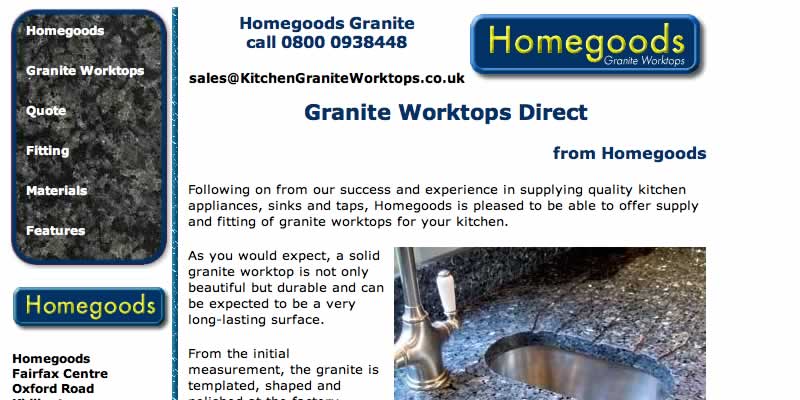 2004

Homegoods Granite Kitchens, Bicester, Oxfordshire

A new small site for an existing customer - our Homegoods site selling kitchen white goods and appliances now has a little brother selling fitted granite worktops for kitchens.

The new site has plenty of examples of granite materials and colours, along with details required for worktop fitting and selection.
This was a small additional website for an existing client who had an eCommerce site developed by iCatching. The site carried just a few pages describing the product and worked well on search engine enquires, although it has not been updated for current SEO requirements in a long time.
The site also had a detailed enquiry form that tried to point users into considering exactly what they needed. Some sites are better off with a simple enquiry form or just an email link - if you force users to give you all sorts of information then you may put people off making the enquiry. If you've no intention of phoning then, why force them to enter a phone number? In this case, it was helpful to our client to filter out casual enquiries - their product is a premium worktop and only people who specifically wanted one would end up buying.